A bride's guide to shoes for the occasion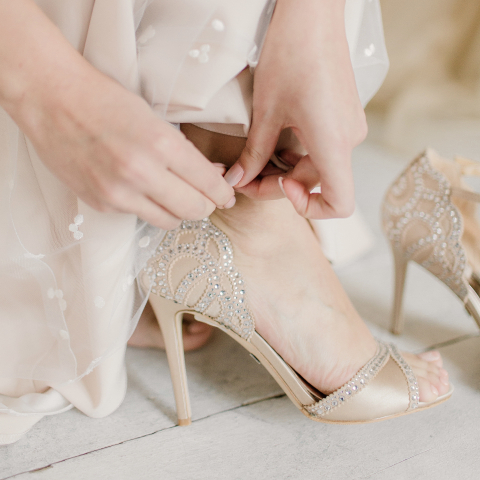 By Michaela Shaw
As I prepare for my upcoming wedding, occasion footwear has been at the forefront of my mind. Whether you're looking for bridal, Christmas party or Saturday evening out shoes – finding the perfect pair matters.
Read on to see my guide for selecting shoes for occasions…
BUDGET
You should always only spend what you're comfortable with; no shoes are worth spending outside of your means. However, wearing the right shoes is important and compromising on quality may affect the comfort and lifespan of your shoes.
RESEARCH
If you are wedding dress shopping, there is no harm in browsing for shoes at the same time to get a feel for details and styles; you can then take inspiration away to shop online or elsewhere. If possible, try your shoes on before buying. We recommend trying shoes indoors on a clean carpeted surface and make sure you walk as much as possible in them to test comfortability. Also, try shoes on at the end of the day as your feet swell slightly as the day goes on. This will give you the best idea of how your shoes will fit after a long event.
STYLE
Once you have your outfit selected for your event – whether that's a wedding dress or night out outfit – your shoes can be the finishing touch to your look. Style, colour and material is important and details such as embellishment can be echoed in footwear. Compliment shorter length dresses with statement shoes as they are more visible.
LOCATION
Ever tried to walk across a beach in stilettos? Then you'll know that your footwear needs to be practical for your location. If you know you are going to be walking over soft terrain, consider heel stoppers which can help stop high heels sinking and can also protect wooden floors from scuffing.
COMFORT
Whatever occasion you're dressing for, one thing that should be high on your priorities is staying comfortable. After all, being able to dance all night is a necessity. The higher a heel, the more pressure on the ball of the foot. Block or low heels are ideal for standing and dancing for long periods of time. Consider aides such as ball of foot cushions or "Party feet" to help with additional cushioning. These are discreet and will give you a few extra hours on the dancefloor!
We hope that whatever events you have planned this party season, you make sure your footwear keeps up with you. Happy festive season, from Dulwich Podiatry!